IBG RESEARCHER RECEIVES 2020 TUSEB AZIZ SANCAR AWARD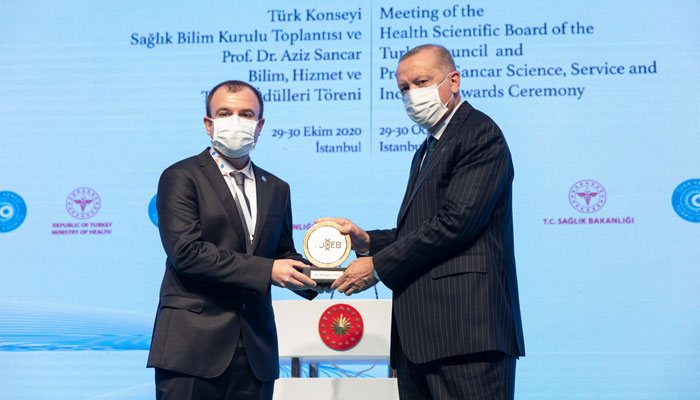 Dr. Arif Engin Çetin, group leader of IBG's Nanophotonics and Biodetection Systems Lab, is one of the three researchers to receive the "TUSEB Aziz Sancar Encouragement Award" this year.
The winners of the "TUSEB Aziz Sancar Science, Service and Encouragement Awards" were announced. These awards, which are named after 2015 Nobel Prize winner in Chemistry Prof. Dr. Aziz Sancar, are given to people who make great contributions in the field of health sciences and technologies. The prizes were given to the awardees during the 4th Committee Meeting of the Turkish Council of Health Sciences, which was hosted by the President of Turkey and the Ministry of Health on 29-30th October.
Dr. Çetin, along with his group members Tolga Filoğlu and Bilge Can, utilize nano-plasmonics to develop ultra-sensitive spectroscopy and sensing technologies for real-time, label-free and high-throughput detection and analysis of very low quantities of biomolecules.
Dr. Çetin said that, "Receiving this prestigious award on health sciences from our President Recep Tayyip Erdoğan is the best indicator of the appreciation towards my academic studies. Thanks to this motivation, I will be working more enthusiastically on developing new technologies. I would like to thank the IBG family for all the support and contributions given to me. I deeply wish to reach new successes altogether."
We, as the IBG family, congratulate Dr. Çetin and other awardees for their success.