IBG RESEARCHERS TALKED ABOUT THEIR PROJECT G-FED IN DETTO YORUM MAGAZINE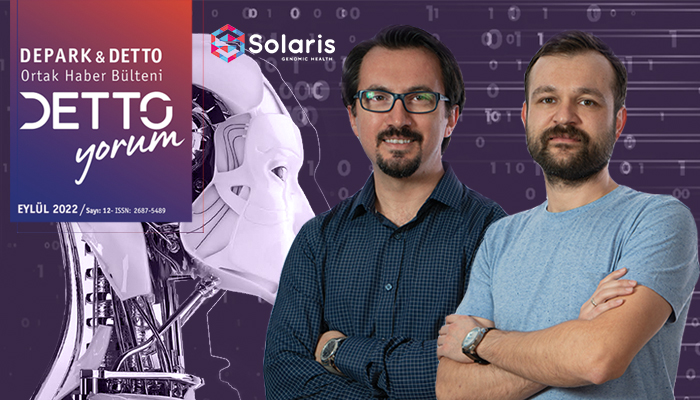 Assoc. Prof. Gökhan KARAKÜLAH and Asst. Prof. Yavuz OKTAY introduced their project named G-FED, developed within their start-up company Solaris Genomic Health with the support of TÜBİTAK-TEYDEB 1507 programme.
As Solaris Genomic Health, Assoc. Prof. Karakülah and Asst. Prof. Oktay aimed to develop a software that will enable the sharing of genomic data in a federated manner, which is confidential and based on dynamic consent, for the first time in our country. The project proposal entitled "G-FED: Dynamic Consent Supported Intimate Federated Search and Analytics Platform for Genomic Research and Applications', which was prepared for the development of the platform they call "G-FED", is supported by TÜBİTAK-TEYDEB 1507 programme this year. These structures called "federated" or "distributed," allow data to be analyzed without transferring them, thus making a great contribution to the security of personal data unlike traditional centralized structures. The researchers collaborated with Research Ecosystems, one of the companies at the Izmir Institute of Technology Technopark, which is specialized on the field of data science and artificial intelligence.
Assoc. Prof. Karakülah and Asst. Prof. Oktay explained the details on the aims and stages of the project in the 12th issue of DETTO Comment, the joint news bulletin of DEPARK-DETTO of Dokuz Eylül University.
G-FED platform aims to find solutions to the problem of data sharing, which is one of the biggest obstacles to the effective use of data, despite the widespread use of genomic analyzes for genetic diseases, with innovative approaches. It is expected to meet an important need for our country. Assoc. Prof. Karakülah and Asst. Prof. Oktay stated that there are approximately five million individuals affected by rare diseases in our country and emphasized that new diagnostic algorithms to be produced from the platform will contribute to the development of cost-effective solutions to health expenditures. You may access the interview on the 21st and 22nd pages within this link:
https://depark.com/upload-files/yayinlar/DETTOyorum%2012.sayı%20dijital.pdf