c-Met signaling orchestrates the organ preference of metastasizing HCC cells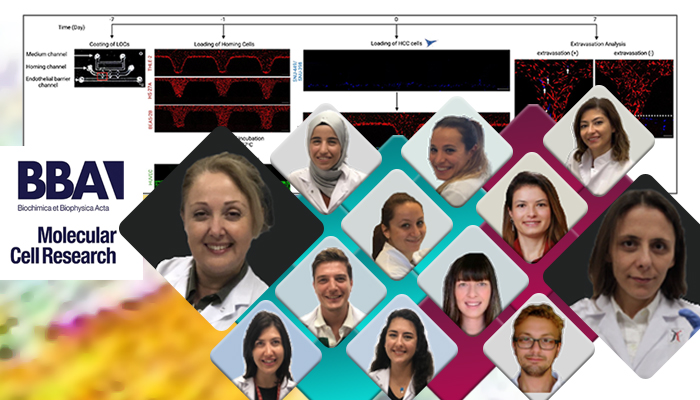 A recent paper from Atabey Research Group may help to understand the mechanism behind intrahepatic metastasis of HCC by using lab-on-a-chip-device
Recently, Prof Neşe Atabey and her team published a paper entitled "c-Met activation promotes extravasation of hepatocellular carcinoma cells into 3D-cultured hepatocyte cells in lab-on-a-chip device" in BBA-Molecular Cell Research, in collaboration with Prof. Devrim Pesen Okvur from İzmir Institute of Technology.
Hepatocellular Carcinoma (HCC) is the fourth leading cause of liver cancer-related deaths worldwide. c-Met plays a pivotal role in normal liver development and regeneration, whereas aberrant activation of HGF/c-Met signaling promotes invasion and metastasis in HCC by regulating epithelial-mesenchymal transition (EMT). In this study, Gulsun Bagci et al., demonstrated that c-Met signaling orchestrates the organ preference of HCC cells. For this, they tested the effects of c-Met overexpression or inhibition on the organ-specific extravasation capacity of HCC cells by using a 3D LOC platform that includes endothelial barrier cells and three different normal cell types (liver, lung, and bone), embedded in matrigel to mimic the tumor microenvironment. They showed that overexpression of c-Met directs HCC cells to extravasate through the normal liver microenvironment, whereas inhibition of c-Met signaling has reversed this effect.
The findings of this study highlight two important points that may help to understand the mechanism behind intrahepatic metastasis of HCC patients, most of which experience recurrence or intrahepatic metastasis after curative resection: (1) Treatment with c-Met inhibitors after curative resection may prevent recurrence and intrahepatic metastasis in HCC patients with high c-Met expression and activation, (2) LOC systems can be used to predict organ preference of metastatic cells.