DEU RECTOR PROF. DR. NÜKHET HOTAR VISITED IBG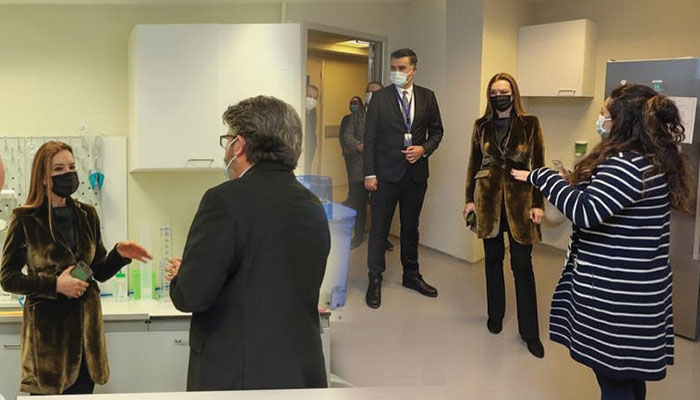 The Rector of Dokuz Eylul University Prof. Dr. Nükhet Hotar, along with executives of the university, visited Izmir Biomedicine and Genome Center and obtained information on the ongoing activities of IBG.
The Chair of the IBG Board and Vice-President of TUBITAK Prof. Dr. Ahmet Yozgatlıgil presented IBG's infrastructure and the educational, scientific and industrial operations in the meeting which took place at Aziz Sancar Auditorium. During the meeting, constructive discussions took place, especially on the importance of the operations of the GLP-certified Drug Analysis and Control Laboratories, new partnerships with the industry, increasing the number of patent applications and on career developments of graduate students.
Prof. Hotar and the executives of DEU, then, visited the Drug Analysis and Control Laboratories that have received Turkey's first GLP certificate and perform internationally valid pre-clinical drug analysis tests. They discussed ongoing Covid19, and other, drug and vaccine development studies with members of the Drug Analysis and Control Laboratories team. They also visited laboratories that are being prepared for GMP qualification and IBG Bio-Pharma laboratories, in which some of IBG's Covid19 drug and vaccine development experiments are continuing. The directors of these laboratories answered Prof. Hotar's questions.
Lastly, Prof. Hotar and the executives of DEU visited the BSL3-to-be laboratories and the Zebra Fish Unit, in which transgenic zebra fish experiments are conducted.