IBG VISIT OF DEPUTY MINISTERS OF INDUSTRY AND TECHNOLOGY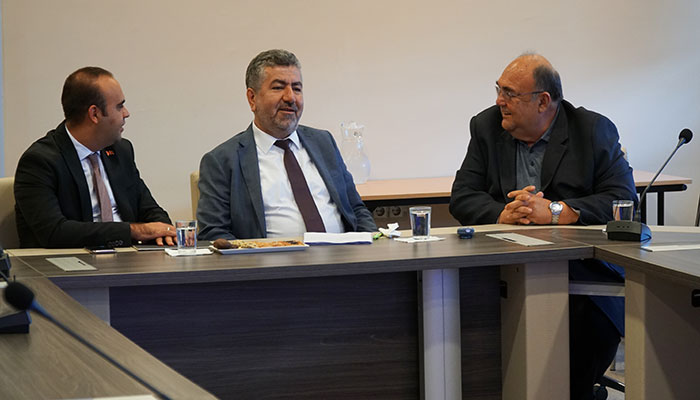 Deputy Ministers of Industry and Technology, Mr Mehmet Fatih Kacır and Mr. Çetin Ali Dönmez visited İzmir Biomedicine and Genome Center (IBG)
The visit took place on June 20th 2019. IBG Director Prof. Dr. Mehmet OZTURK welcomed guests Mr. Mehmet Fatih KACIR, Mr. Çetin Ali DONMEZ, DEU Vice Rector Prof. Dr. Uğur MALAYOGLU, DEU Faculty of Medicine Dean Prof. Dr. Murat CELILOGLU and TUBITAK ARGES Director Dr. Dilek Candan. The meeting commenced with an overview by Prof. OZTURK on IBG as a national public research center within the framework of Law No. 6550. During this presentation, IBG researchers Dr. Serhat TOZBURUN and Dr. Arif Engin CETIN provided additional information on their bioengineering research projects. Assistant Director Dr. Soner GUNDEMIR gave a detailed description of high-technology pharmaceutical projects and their commercialization processes at IBG.
The guests also paid a short visit to IBG research and innovation labs. The visit ended with warm words of appreciation from our assistant directors.
For IZKA News please click
here.